Redfall
Upgrade to the Blood for Blood edition to get:• Redfall Heroic Pass with two future heroes• Laser Beam skin for various weapons• Attachment for weapon Tactical Knife• Back to the...
<transcy>Regular price</transcy> €44,99 Discount €70,00
Categories: PC games, Action, Cooperative, FPS, New releases, Offers, Open world, Steam
tags: Acción, Cooperativo, FPS, Mundo abierto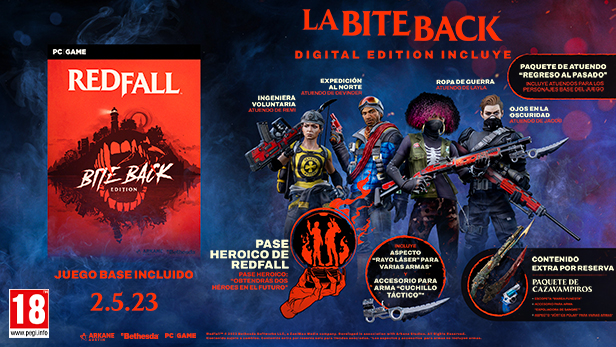 Upgrade to the Blood for Blood edition to get:
• Redfall Heroic Pass with two future heroes
• Laser Beam skin for various weapons
• Attachment for weapon Tactical Knife
• Back to the Past Outfit Pack (unique outfit for each hero)
PRE-PURCHASE OFFER
Pre-order to get the Vampire Slayer Bundle, which includes:
• Tier 2 Doomtide Shotgun
• Polar Vortex Various Weapon Skin
• Blood Spoiler Weapon Attachment
Redfall is an open-world first-person shooter, with solo and co-op modes, developed by Arkane Austin, the award-winning team behind Prey and Dishonored. The richly designed worlds and immersive simulators that characterize Arkane come to this narrative action shooter from Redfall.

FEATURES: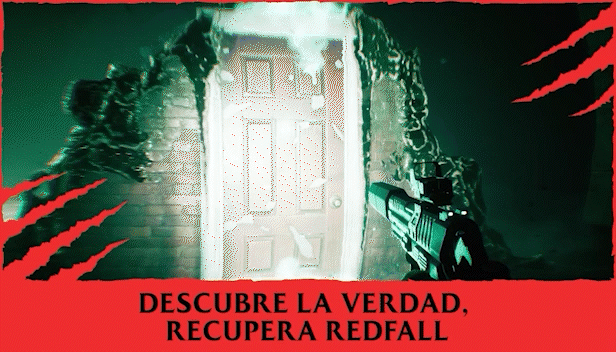 Discover the truth, recover Redfall
The island city of Redfall, Massachusetts is besieged by vampires who have isolated the citizens from the outside world and blocked out the sun. Explore the open world and immerse yourself in a narrative campaign to unravel the mystery behind the rise of vampires. Ally with a handful of survivors to fight against the creatures that threaten to bleed the city dry.




Kill alone or team up

Redfall seamlessly blends solo and multiplayer gameplay options, allowing the player to venture into the darkness alone or team up for four-player co-op. Companions can try out different outfits for the heroes and join forces to find creative solutions in the face of the vampire apocalypse. You'll be able to build a specialized arsenal and modify your character with upgrades and unique abilities to suit your play style, whether you like to go straight, are more of a stealthy fighter or prefer something in between.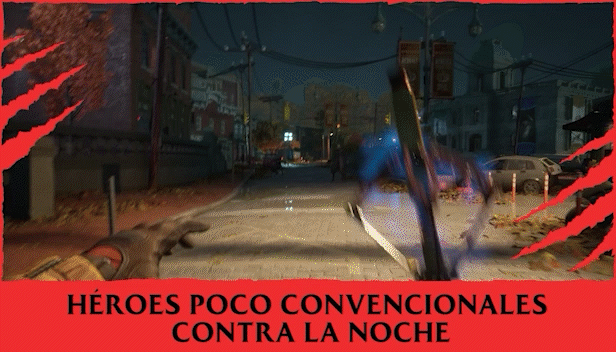 Unconventional heroes against the night

Created as a result of failed scientific experiments and endowed with psychic abilities, the Redfall Vampires will challenge you and your squad to find creative solutions. You will choose from a team of diverse heroes (each with their own unique abilities) to defeat the Vampiric Legion and their brood of maniacal followers.

• DEVINDER CROUSLEY – The Certified Cryptid Hunter: A budding cryptozoologist and inventor. Equipped with weapons of his own making, he is determined to prove himself.

• LAYLA ELLISON – The Telekinetic Threat: A biomedical engineering student who volunteered for a clinical trial where something disastrous occurred that gave her very intense telekinetic abilities.

• REMI DE LA ROSA – The Ingenious Engineer: An exceptional combat engineer who has spent half her life on the front lines. With the help of her robotic partner, Rascal, she sets out to rescue the survivors of Redfall.

• JACOB BOYER – The Sharpshooter with a Ghostly Eye: An ex-military sniper turned mercenary. Strange events in Redfall have left Jacob with a mysterious vampire eye and a spectral raven that never leaves his side.




The open world of Redfall

Redfall is an authentic Arkane experience set in a nuanced world that blends the ordinary with the extraordinary. The new open world of Redfall has been created by the expert designers behind Prey's Talos I space station and Dishonored's city of Dunwall. From the once bustling downtown area and haunted forest to the battered waterfront and beyond, you'll fight your way through cultist outposts and otherworldly psychic spaces as you piece together Redfall's many mysteries.
<transcy>Similar products</transcy>