Warhammer 40,000: Chaos Gate - Daemonhunters
Warhammer 40,000: Chaos Gate - Daemonhunters
Warhammer 40,000: Chaos Gate - Daemonhunters
DOMINA LIBER DAEMONICA A relic of Supreme Grand Master Janus containing the 666 words of banishment. Equip this passive item and send the daemons back into the wailing warp. CRYS'YLLIX...
<transcy>Regular price</transcy> €24,90 Discount €44,99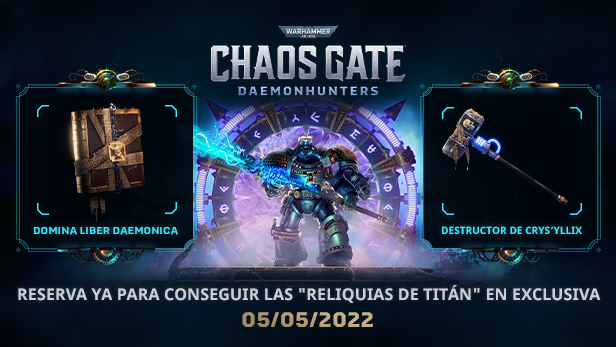 DOMINA LIBER DAEMONICA
A relic of Supreme Grand Master Janus containing the 666 words of banishment. Equip this passive item and send the daemons back into the wailing warp.
CRYS'YLLIX DESTROYER
The first nemesis daemon hammer, used to tear Crys'yllix, the Lord of Change, to pieces. Equip yourself with this powerful weapon and unleash your wrath against countless daemons.
Lead the Gray Knights, mankind's greatest weapon, against the corrupted forces of Chaos in this brutal and fast-paced turn-based tactical game. Destroy and put an end to a treacherous plot to infect the galaxy with the Outbreak, a cosmic plague capable of rotting worlds to extinction.

The existence of the Gray Knights—shielded in faith and shielded in devotion—is everything a mystery, as they have suffered executions and memory loss left and right. Discover what life is like in the 41st millennium and follow the journey of these elite warriors through a narrative by the Black Library's acclaimed Aaron Dembski-Bowden.
DETERMINE THE FATE OF THE GALAXY


Upgrade your base of operations, build new facilities, investigate arcane mysteries, and engage in combat missions across various worlds to purge the spread of the plague. The Outbreak corrupts everything in its path without prejudice, so your decisions will affect the planets that succumb... and those that survive as well.
FORGE YOUR CHAMPIONS


Manage your own custom squad of Gray Knights; Learn psychic skills and abilities, unlock powerful gear, and specialize your champions into four unique standard and hero classes. Customize the voice, armor and facial options of your warriors.
TARGET SELECTION ACCURACY


The Gray Knights are an elite division of the Space Marines where poor aim and mistakes are not the order of the day. The precision targeting system puts you in control of tactical decisions, allowing you to plan your strategy with confidence; you decide if you want to shoot at a precise and safe distance or if you prefer to dismember and tear an enemy in barbaric close combat.
MONSTERS AND MONSTERS IN CONSTANT MUTATION


As the Outbreak eats away at planets, environments will evolve and erupt, spawning massive dangers and deadly minions, as well as cultists and infamous Space Marines. of the Chaos of the Death Watch that will be mutating and obtaining buffs and pestilent blessings, which will give them new attacks and abilities. Adapt your time-honored strategies to overcome obstacles against towering enemies and their minions.
CINEMATOGRAPHY KILLINGS


Dive into fast-paced, tactical combat. Smash and execute enemies up close in bloody displays of prowess, or strike from a distance with blessed bullets and powerful psychic energies. Use the destructible environment to your advantage and knock down pillars or crash vehicles into unsuspecting enemies.
<transcy>Similar products</transcy>